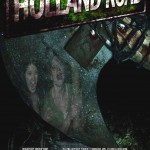 Now Showing at TJ's Dinner Theatre
The Legend of the PigMan LIVES!!!
 HOLLAND ROAD / A GRIM BECOMING
DOUBLE FEATURE
HELD OVER TWO SHOWS ONLY!
Saturday and Sunday 7pm!
Please Consider Helping with our Digital Conversion!!!
NO  NEW 35mm films had been available in weeks…
and may be ending totally SOON!
IF YOU HAVE A GROUPON
THAT IS SOON TO EXPIRE OR HAS RECENTLY EXPIRED
WE WILL HONOR THEM!!!
 Thanks for understanding!
Contact us about Special Group Screenings or Birthday Party's
Check our Facebook page for updates! $5 Adults $4 Children Seniors $4 Matinee's ALL seats $4
Coming Soon:    ??? 
LIKE our facebook page for updates & comments about upcoming features